Who is the target audience for FPE classes?
In general, all classes are targeted to those involved with the building, fire, and elevators trades and the fire-protection profession. Refer to each specific CLASS for the specific target audience.

What level of experience do I need to have to attend a specific class?

The classes are targeted to all levels of professional experience. Questions and open discussion is welcome and all level of questions will be answered accordingly.

What type of continuing education CEU credits are provided for each class?
Continuing Education Units (CEU) - 8-Hours CEU units accredited by ESA/NTS will be granted to all participants upon completion of the full-day class.
Is it possible to schedule a private class on site of choice for specific organizations?

Yes. Please refer to the "Seminars" submenu entry under the CLASSES & SEMINARS in the main menu.

What type of materials do I receive if I attend a class?

You will receive a hard-copy handout of the PowerPoint slides with room to take notes.
What type of certificate do I get if I attend a certain class?

You will receive a certificate of attendance and 8-Hours CEU units accredited by ESA/NTS.

What do I need to bring to the class?

A pen or pencil, notepad, hard or electronic copy of NFPA-72 or any other code for reference (not required), a laptop or tablet (not required).

What codes are covered in these classes?

The codes covered by each class are listed in each specific CLASS page.

What is the class delivery method?

In-class presentation using PowerPoint slides, watching training DVDs and videos, open discussion with ability to ask questions at any time, and in-class exercise on real-life projects and permit plans.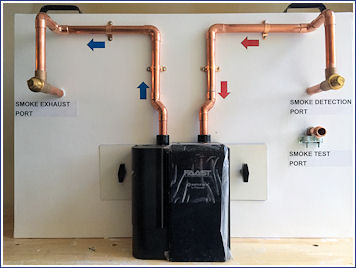 Air aspirating smoke detection for elevator hoistway